Electronic mandates
Our easy to use guide will get you up and running in no time!
Creating a new mandate request
Click on Services / Debit orders / Manage debit orders / Electronic mandates.
Click on Add mandate, you may note that the process is very similar to creating a new Masterfile entry.
Insert Account details, tick Active if required and Submit.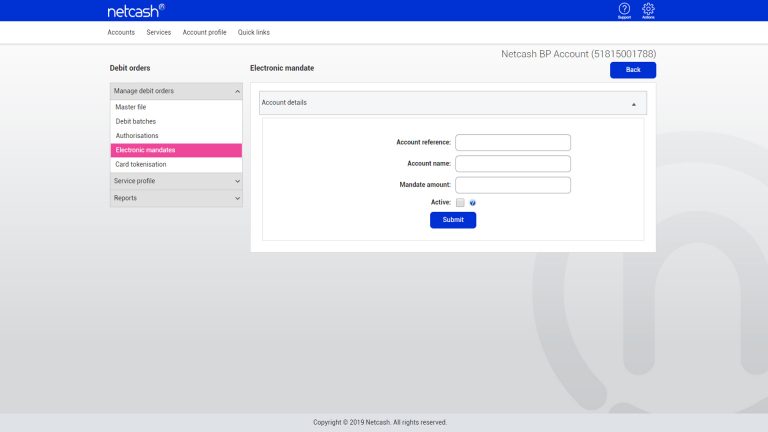 Insert Identification details – these are the details of the person who is to sign the mandate on behalf of the company/individual.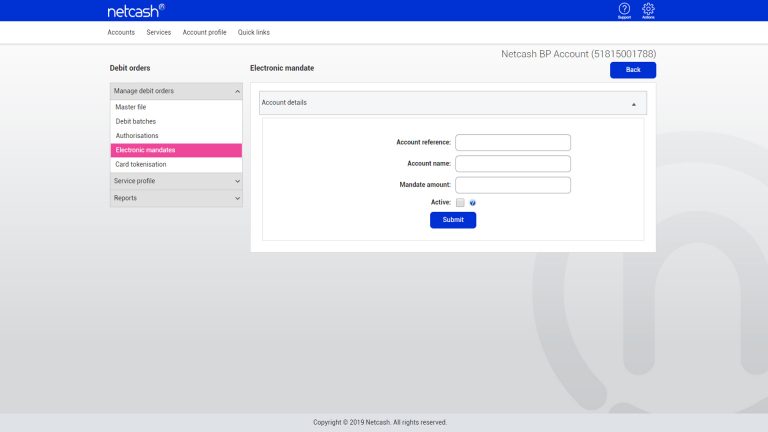 Bank account or credit card details can be inserted if you have them, otherwise they can be inserted by your client when authorising the mandate online.
Account grouping and Additional details are optional fields.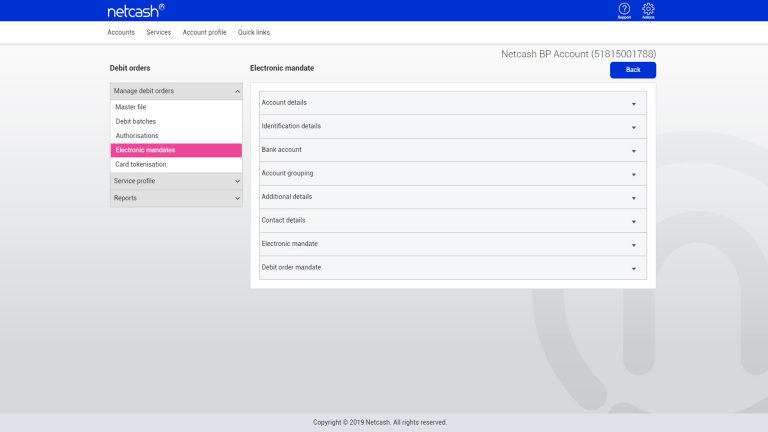 Complete the Contact details container by clicking on Edit.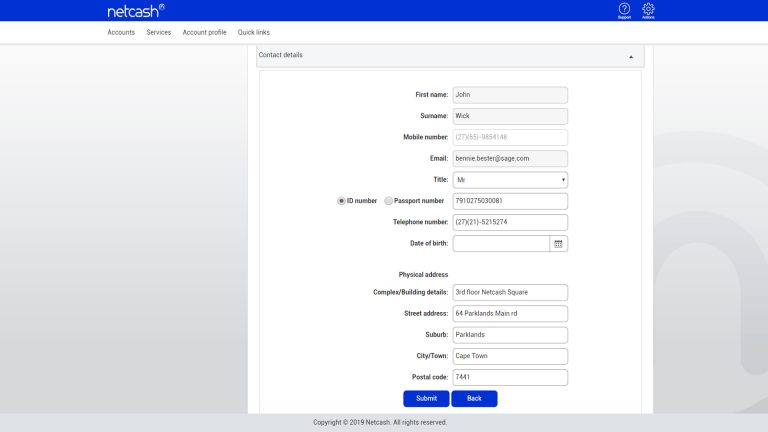 Click on Submit. Complete the Electronic mandate container. Note that the Commencement day allows you to give your client a choice of dates on which to debit the bank account / credit card. Tick additional clauses if you would like to add specific clauses to your mandate. Click on Update and then Submit mandate. A preview of the mandate will then be displayed, click on Send mandate if you are ready to send the mandate to your client. Netcash will now forward an email and SMS requesting your client to sign the mandate electronically.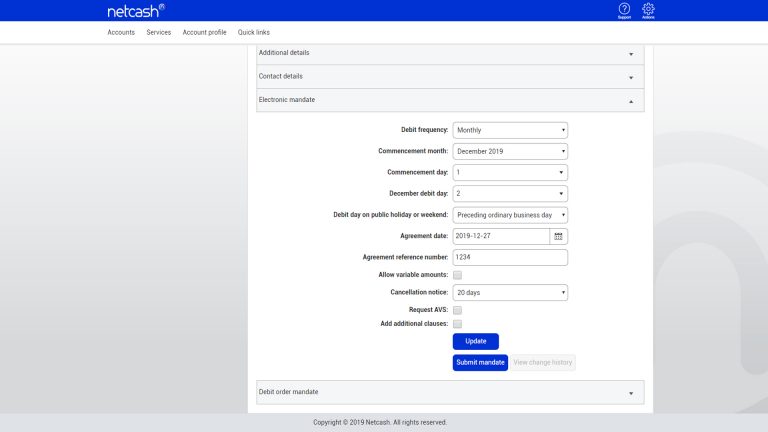 Client signing process
Your client will receive an email and/or SMS requesting them to sign the mandate electronically by clicking on a link to the signing pages
The first step is to insert their first name (this is a verification step that requires the First name as entered by you in the Identification details container). The OTP contained in the SMS/email is then inserted followed by Submit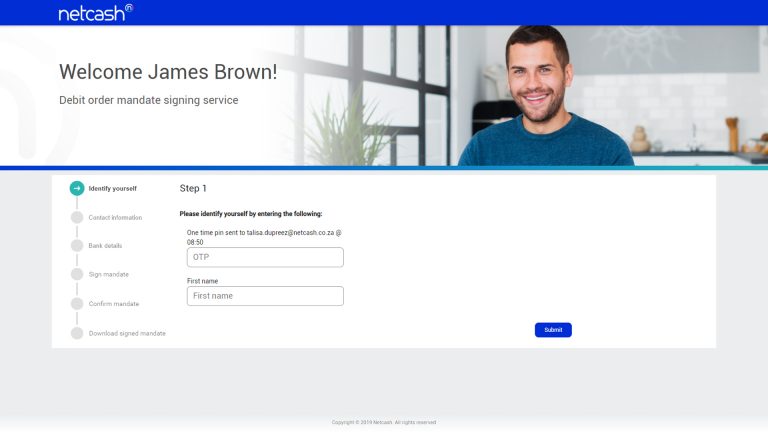 Complete the Contact information details and Submit.
Choose bank account or credit card, insert details and select dates on which debits are to Commence and run thereafter. Click on Submit and Next.
The 4th step is to review the mandate, note that additional clauses will appear at the bottom of the document. The client then has the choice to Sign or Decline.
Mandates are confirmed by inserting the OTP sent to the client's cell number.
The completed mandate is thereafter available for download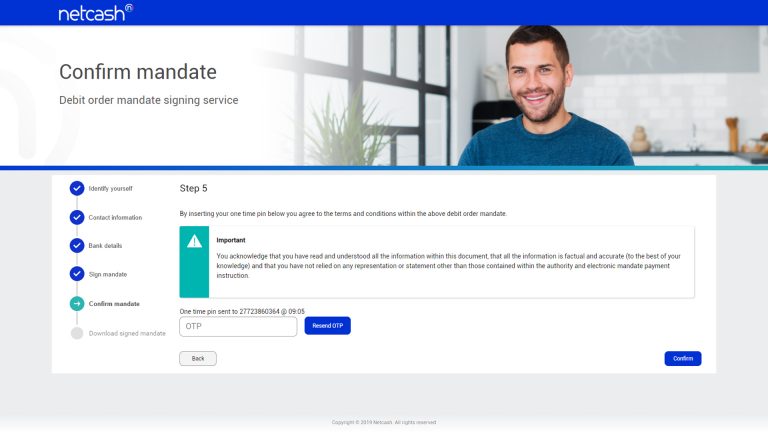 The completed mandate is thereafter available for download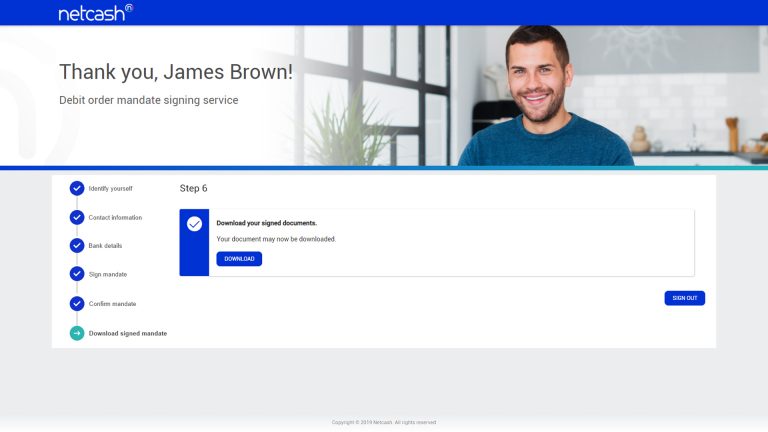 Masterfile updates
All mandates captured will appear on the Electronic mandates main screen. Only mandates that have been signed (Accepted status) can be added to your Masterfile by selecting single or multiple mandates and clicking on the Update Masterfile button.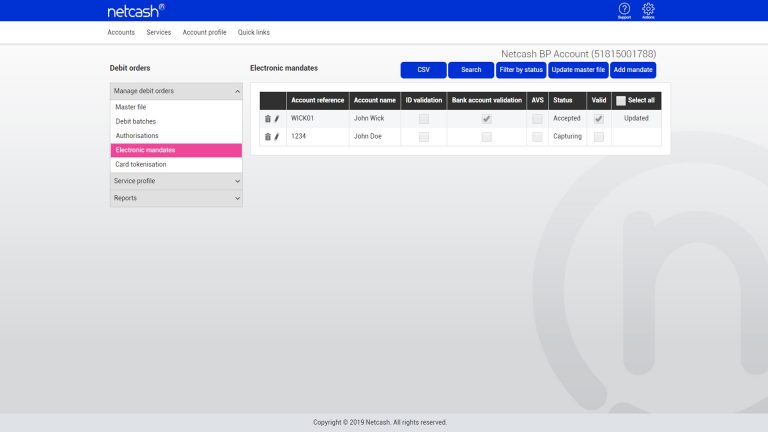 Mandates added to the Masterfile will appear under the Mandate container when editing a Masterfile entry
Note the electronic signature detail at the bottom of the mandate: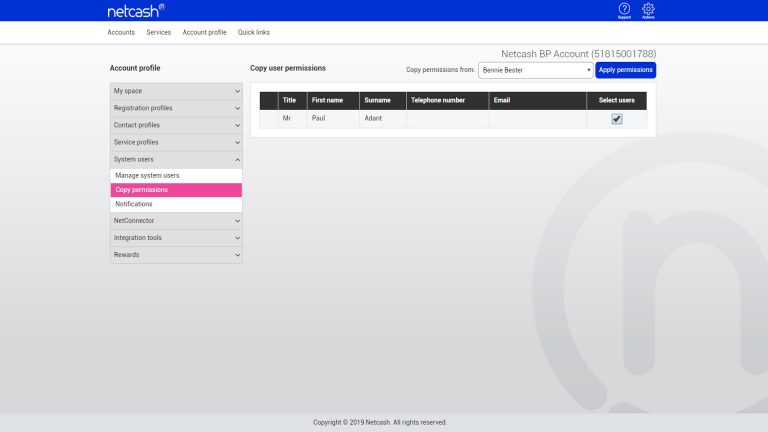 Need more assistance?
Contact your Relationship Consultant on 0861 338 338 or email us on
support@netcash.co.za