WeConnectU
Our easy to use guide will get you up and running in no time!
Debit order integration: Step-by-step-guide
Step 1:
The client notifies WeconnectU that he has signed agreements with Netcash and would like to activate the integrated services to his account. WeconnectU activates this.
Step 2:
Client obtains relevant keys from Netcash relating to each Community and does setup on WeconnectU.
Navigate to options on Community and chooses "Integrations"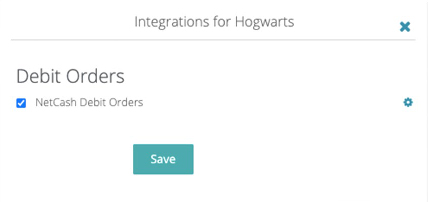 Input relevant keys and save.

Step 3:
WeconnectU system will automatically create a Netcash debit order bank account.

Step 4:
The client sets up a default Debit Order Control Account under default billing accounts.

Step 5:
Client sets up debit order mandates for each customer in Finance – Setup Customer section
Step 6:
Submitting Debit Orders to Netcash
Navigate to Overview > Finance > Netcash Debit Orders
Select action date

Select communities which debit orders you want to submit and submit batches.

Wait a couple of minutes to confirm batch have been authorized. See status bar for reference.
Step 7:
Netcash will submit statement file to WeconnectU on a daily basis
Transactions will auto allocate to customers
Allocate disbursement amount on Netcash cashbook to debit order control account
Allocate disbursement amount received in current account to debit order control account
This should zero the debit order control account
Step 8:
Check recon on Overview Netcash Debit Order page
Drill down functions to detail is provided for each of reference